Day 5-8: Moscow, Russia
Day One: Arrival from St Petersburg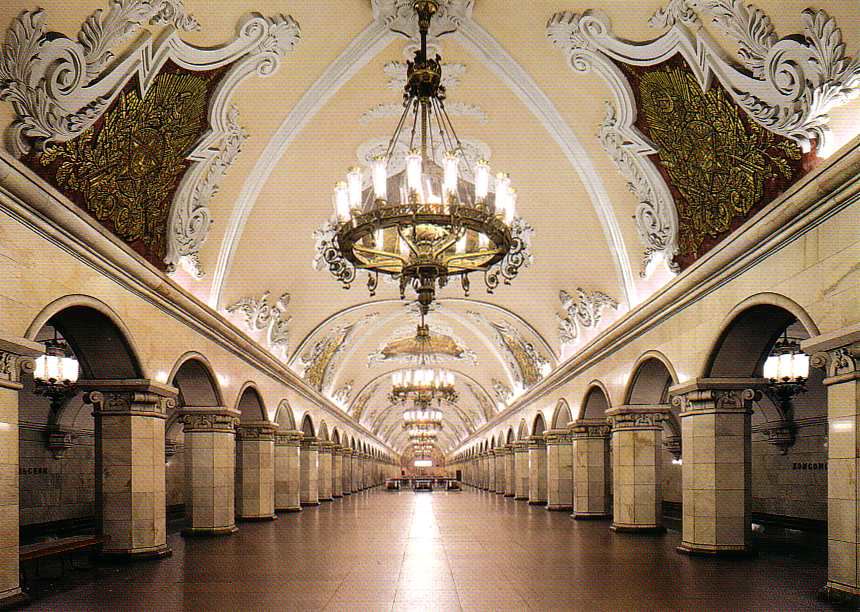 Komsomol Metro Station, Moscow
Having left you last night as we got on the the train to St Petersburg, we have now completed our journey to Moscow.  The train left Moscovsky Station in St Petersburg at 23.00 and arrived at Leningradsky Station in Moscow at 7.30 the next morning.  The journey was really comfortable, saved a night paying for a hostel and crucially gave us an easy introduction to Russian train travel.  Nobody spoke any English, but a combination of my reading cyrillic and the joint Russian vocabulary of me and Alex got us by.  The people on the carriage weren't particularly talkative (who can blame them) but the guy next to me woke us up when we got to Moscow which was kind of him.  We jumped straight onto the metro to our hostel, but then found that we didn't have enough money for a ticket.  Unfortunately, the Russian system means that you can't leave the station once inside - you have to pay for a ticket to somewhere.  Panicking a bit, we decided to try and buy a ticket to the next station along and luckily JUST had enough money - a lesson to learn.  From there we walked, but it had been worth going down there.  The Moscow metro is the most attractive in the world and by chance we started in the pick of the bunch. Unfortunately photography is banned but luckily somebody else has taken one for me, so I will steal theirs.
Red Square, Moscow
We got to the 'Godzilla' Hostel, where we would be spending the next three nights, at about 10.  We couldn't check in until 2, but we took the opportunity to catch up with the news in the TV room and made some bookings on the computer for the rest of the trip.  We checked in and had a much needed shower before having a vague walk into town, stopping for lunch on the way.  We decided to aim for the legendary Red Square, a shrine for two people who had covered Soviet history intensively at school.  Incredibly, when we arrived we weren't even sure that we were at the right place - I thought it was inside the Kremlin complex, but it actually sits outside along one of the walls.  Not only was it not where I thought it to be, but i was also not as grand as I expected - having seen all the videos of Stalin overseeing thousands of troops and tanks walking through.  To me, it looked a lot like most of the other square I had been to, with St Petersburg's Palace Square a far grander version.  Having said that, the sense of history is palpable as you stand there with the Kremlin, St Basil's Cathedral and Lenin's Mausoleum all in the same camera shot.
Fountains in the River Moskva
It was getting too late in the day to go inside anywhere, so we decided to just wander around the city streets.  Citizens of St Petersburg used to look down upon citizens of Moscow as 'villagers', because for a long time (even as capital of Russia), the city was divided into vary distinct districts based on former villages.  This means that each area is unique in its own way and where it misses out on the grandness of St Petersburg, Moscow is a lot more interesting and quirky than I expected it to be.  In my mind it was going to be a communist concrete jungle, but a remarkable amount of cobbled streets and traditional looking buildings exist alongside parks and fountains.  I was pleasantly surprised and this more than made up for my slightly underwhelmed reaction to Red Square.  We had already have a fairly hefty meal for lunch, so we went to a supermarket and picked up some stuff to make wraps for dinner before settling down for the evening at the hostel.
Day Two: Lenin's Mausoleum, Christ the Saviour Cathedral and Arbat Street
Lenin's body, Moscow
We started with a fantastic, self-cooked breakfast of eggs on toast and then headed straight for Red Square, leaving everything in our locker in the hostel.  We were going to Lenin's Mausoleum, where the actual preserved dead body of Vladimir Lenin is lying for all to see.  We left all our stuff in the room because of the bag fiasco at the Hermitage in St Petersburg and because you aren't allowed cameras inside anyway. We figured we would head back to the hostel to pick stuff up later.  I have taken an image from the web to show you just how odd Lenin's waxy dead body looks.  It was amazing to be able to see it, but at the same time it was also pretty disturbed.   It also completed quite an odd communist trio of tombs/bodies that I have seen on my year out - Lenin, Ho Ch Minh and Tito.
Christ the Saviour Cathedral, Moscow
We headed back to our hostel for a coffee and some lunch and then walked back down into town.  We had originally planned to go inside the Kremlin complex today, but it closes on Thursdays unfortunately.  This wasn't too much of a worry though as we just swapped some bits on our itinerary around.  We headed for the Christ the Saviour Cathedral, the tallest Orthodox cathedral in the world (but not the largest - we saw this in Serbia earlier this year.  We had heard that it is possible to climb to the top of the dome and get some really good photos over the city.  Unfortunately we couldn't actually see any steps up there when we arrived, so we went inside the building itself.  Amazingly, it is only 20 years old as it was rebuilt as a copy of the original that was destroyed by Stalin during his anti-religion phase.  He intended to replace it was a kind of 'temple of humanity', which would have been the biggest building on earth.  Having knocked down the cathedral however, it turned out that his building would have been too heavy for the marshy land around the river and he instead decided to build a swimming pool - a pretty poor replacement in all honesty.
Arbat Street
Our last real stop of the day was Arbat Street and New Arbat Street.  The former of these is the pedestrianized shopping street that mainly caters for tourists, with souvenir shops, street performers and cafes.  The latter is one of the newer shopping streets that is mainly used by Russians.  We had a drink on Arbat Street and watched some of the performers, but the two weren't quite as great as they were hyped up to be.  We hadn't actually seen many sights today, but had walked for miles and miles, taking in the city and as a result we headed back to the hostel via Red Square, where we updated our video diary.  We had been trying to save money by doing our own food, so made a dinner of bologneise in the hostel kitchen.  I can't recommend Godzilla Hostel enough - it is one of the best run places I have ever been and we had the whole kitchen to ourselves.  Early night tonight as we are getting up early to take a train out from Moscow to the nearby town of Sergiev Posad.
Day Three: Sergiev Posad
The monastery complex
Four days in Moscow is actually a bit overkill, unless you are aiming o spend lots of time and money in museums.  Having had a fairly successful day trip to the Peterhof from St Petersburg, we decided to be a bit more adventurous in Moscow by taking a train out into the countryside.  Our goal was the town of Sergiev Posad, the most holy site in Russia and the centre of the Orthodox church over here.  We got the metro to the station and then caught a one and a half hour suburban train, costing a reasonable 5.60 pounds return.
'76  kilometer station'
Unfortunately, we missed the stop as a result of the station sign being hidden by another train.  We watched in horror as the churches and cathedrals past us by and we headed off into the Russian wilderness.  Logically, we got out at the next station and prepared to head back in the opposite direction.   This next stop was completely isolated, in the middle of the Russian forests - it didn't even have a name, only a sign saying '76 kilometers', which I assume is the distance to Moscow.  There were no people or houses nearby and the few locals who got out ether disappeared into the trees, or were picked up by relatives on quad bikes.  There appeared to be a timetable on the side of the deserted ticket hut and we gathered that another train would be arriving about an hour later.  After an hour of sitting on the platform, watching out for hears, we hopped on a train back to Sergiev Posad.  We had planned to arrive at half 11, we actually arrived at 3.
The Bell Tower (left) and Assumption Cathedral (right)
The town of 100,000 people is just a normal Russian settlement, but on the outskirts is the walled monastery complex.  The site lies outside the zone of devastation caused by Hitler and the buildings are therefore the originals, which is uncommon n the Moscow area.  It is a really stunning sight, set on a hill and protected by walls that once repelled some 20,000 Polish invaders whilst only manned by 1,500 Russians.  The monasteries were all very impressive and the central one (the Assumption Cathedral) with its sky blue domes was where the Tsars used to be christened.  Photos weren't allowed within the complex, but I was able to get some good snaps around the grounds.  The central square contains a fountain connected to a natural spring that supposedly appeared during the Polish siege.  It is considered holy water and pilgrims come from all over to drink from it.  There wasn't much of a queue as we walked past, so we filled up our bottles.
Drinking holy water
After an hour or so of walking around, we walked back to the station and caught the train back to Moscow.  Some bad seat selection ended up with us in a carriage full of Russian middle aged drunkards.  They were more amusing than threatening - a few of them were sober enough to keep the others in order.  One of them was really stumbling around and fell off his seat as we stopped at a station, cracking his head on a metal bar.  It really dazed him and his mates couldn't get any sense out of him.  Looking at us, they saw our bottle of Russian holy water in the side of my back and yelled 'voda, voda' at us.  I didn't know what they were getting at, but I handed it to them only to watch them pour it all over this poor guy's head to wake him up.  Maybe the holy water cured his alcoholism.  We headed back to the hostel once back in Moscow, picking up some stuff for dinner on our way through.  Our meal was pretty amazing - we were joined by an English couple who had sold their house and were using the profits to travel until they found somewhere to live, and a Yale professor of Ecology and English.  Needless to say, Alex and I didn't say a lot - our anecdotes paled in comparison!
Day Four: The Kremlin
Trinity Tower, The Kremlin
All the maps of Moscow have the Kremlin marked as a big red splodge, right in the city centre.  There is no questioning what the focal point of the city is - all roads lead to the Kremlin and we had already walked past several times.  Before I came, I assumed that the Kremlin was a building that was the evil version of the White House in Washington DC.  It turns out however that most older Russian cities have a Kremlin, because it is just the Russian word for 'citadel'.  It just turns out that 'the' Kremlin refers to the most famous of the lot - the centre of the Russian government in Moscow.  On our way through, we passed he tomb of the unknown soldier - a very sacred site for Russians, with the dates 1941-1945 engraved into it.  Two soldiers stand guard and an eternal flame burns.  Strangely enough, lots of Russians come to the site to have their wedding photos taken, but we were there too early to see that.  Security is pretty tight and once again we weren't allowed bags.  The ticketing system was pretty rubbish (two booths and miles of queues), but we are pretty used to it by now - our top tip for travelling in Russia is that it can take as long as 2 hours to get inside anywhere popular.
Palace of Congress, The Kremlin
There were several 'grades' of tickets available, which corresponded to the amount of buildings that you could enter.  Being backpackers, we got the cheapest - which basically allowed us to walk around the central square and into two of the cathedrals.  The thick red walls of the Kremlin make it very difficult to imagine what it is like inside, as only a few buildings and spires are taller.  I didn't know what to expect therefore, and was pleasantly surprised to find an interesting array of museums, cathedrals, government buildings, squares and parks.  I don't know if it has been completely changed since Stalin's time, but it completely lacked the sinister feel that I was expecting.  We entered through Trinity Tower and immediately passed the most obviously communist mark on the Kremlin - the 'Palace of Congress' which used to be the centre of government and has now become a theatre for performing arts.  Its frankly a pretty ugly mark on what is otherwise a very attractive area.
The Bell Tower and Cathedral of Archangel Michael
The path through the Kremlin is fairly well marked - any movement off the footpaths is immediately greeted with a whistle and shout from a policeman.  The complex is still the centre of Russian government and it seems that there still exists a residual suspicion of foreigners.  Our ticket entitled us to enter Cathedral Square and look at the grand buildings that surround it.  The first of these, the Cathedral of the Annunciation, was the Tsar's private chapel and contains the coffin of Tsar Alexander III.  As cool as it was to see this famous Tsar's coffin, this was nothing compared to the building opposite - the Cathedral of the Archangel Michael, which contains the coffins of 46 Tsars, including Ivan the Terrible.  The coffins are all lined up together, with only the cyrillic name on the top to distinguish them - a remarkably communal area for men who lived their lives above everybody else.
The Tsar Cannon (check out the cannon balls)
That was pretty much all we were allowed to go inside at the Kremlin, but we were able to go past both the biggest cannon and the biggest church bell in the world.  These weren't
quite
as impressive as they could have been, as the cannon never fired a shot - the cannon balls couldn't be loaded inside, and the bell has a big chunk missing from it.  They were cool to get some snaps of.  On our way out we walked through some of the grounds of the Kremlin - pretty parkland with flower beds and benches, believe it or not.  We also passed the Armoury Museum, which cost a fair bit extra (we didn't enter) but for those of you with more financial clout, this museum is probably the best one to go to within Moscow.  Or so I have heard.
GUM department store
From the Kremlin we headed over to Arbat Street to pick up some postcards and have a light lunch.  On our way back through to the hostel we went into Red Square for the last time.  The stage that had been there the whole time had been taken down, which meant that we were actually able to get some photos of Lenin's Mausoleum.  I had spent days looking for the 'GUM' (pronounced goom) department store, and it turned out that it had been under our noses the whole time, on the edge of Red Square.  I'm not usually one for department stores, but this one had quite a history.  It was built as a grand shopping arcade, but when the communists arrived they took over all the businesses and put their own, state sponsored, goods inside.  As with most communist shops, there were severe shortages and the building served as the ultimate icon of these shortages.  Now, it is an even more impressive icon - it sits directly opposite Lenin's Mausoleum and the Kremlin and is the most exclusive shopping centre in the city.  It is perhaps the ultimate symbol of Moscow's new found self, that you can stand inside a shop like Lacoste or Dior, look through the window, and see the place where Lenin's body lies.  I am sure that he is turning in his pod.  If this isn't enough symbolism for you, the street outside GUM, with Lenin at one end and exclusive shops all the way along it, has the ex-KGB headquarters at the other.  This means that you now buy a Ferrari in Moscow in a shop that is within about 100m of both Lenin and the KGB HQ.  You still can't go in the latter though - I think that there are secrets inside that may never come out.
The old KGB headquarters
This was, perhaps inappropriately, our last sight in Moscow, as we went to the supermarket and headed back to the hostel. We had stocked up on food for the evening's journey to Yekaterinberg - a journey lasting for just over a full day.  After dinner we aimed to have a photo of us having a shot of vodka like we did in St Petersburg - a tradition that we wanted to start.  Unfortunately, as we entered our bar of choice, we were joined by a Russian guy who wanted to practise his English, but was completely drunk.  He wasn't threatening or anything, and we still had our shots (along with a lot of 'welcome, welcome' from the drunk), but we didn't really think it was the time to whip out my expensive camera.  We are now waiting around until midnight, when the train leaves.  See you in Yekaterinberg.